Vision, values, and people are all important to us
About PMS, We are not only an IT company that is recognized globally but also a family of talented experts who provide innovative solutions to global brands, enterprises, mid-size businesses, and even startups.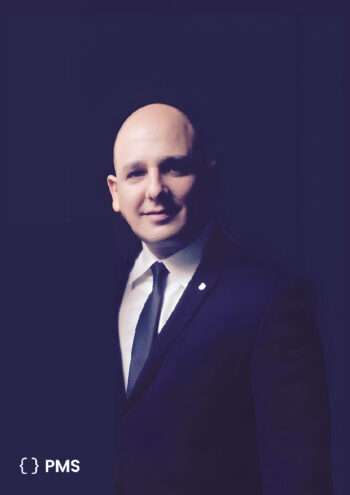 As the Managing Director David is responsible for developing and implementing the company's technology strategy, managing the technology team, and ensuring that the technological infrastructure is secure, efficient, and scalable. David also oversees the development and implementation of software applications and systems that meet user requirements, and stays up-to-date with the latest trends and developments in technology to assess their potential impact on the company's operations. David is also responsible for helping his clients create and manage their technology budgets, ensuring that resources are allocated effectively to achieve business objectives.
David Dayan
Founder & Director
Upon implementation, David's visionary design and ingenuity culminated in a technology-driven company dedicated to comprehending each client's unique business requirements. As a Ryerson University alumnus, he holds a Bachelor of Commerce in Information Technology Management. David initially embarked on a career in the insurance industry as a relationship manager, later transitioning to entrepreneurship as the president and founder of a management consulting firm and a commercial real estate management and staffing enterprise.
Driven by his passion for technology and design, David established PositionMySite.com, successfully catering to a diverse clientele across the U.S. and Canada. His development team conceived, engineered, and managed a range of innovative CRM suites, CMS systems, and eCommerce development solutions for small, medium, and multinational corporations.
While spearheading PMS's growth, David oversees the company's strategic direction, client acquisition, and technology partnerships. He offers consultation on technology solutions that fuel mobile platforms and enhance clients' overall user interface (UI) processes—the industrial design domain of human-machine interaction—guaranteeing complete customer satisfaction at all times.
There are always surprises in life, usually bad ones. The key lies in the ability to fix a problem so you can sleep well and do it all over again tomorrow.
David is actively involved in his community and is a proud supporter of many not-for-profit organizations and charities. He has donated many hours of his expertise in web design to promote charitable and not-for-profit organizations.
Jay Patel
Chief Digital Engineer
Jay is responsible for overseeing the technical aspects of a web and software development company. They work closely with the development team and clients to ensure that technical projects meet clients' needs. They must have a deep understanding of the latest web and software development technologies and frameworks to supervise the development process from start to finish, ensuring the final product meets clients' needs. They also manage the technical infrastructure of the company, ensuring systems are up-to-date and development team has access to necessary resources.
Overall, the Chief Engineer plays a critical role in ensuring a web and software development company provides high-quality, efficient, and scalable solutions that meet clients' needs.
Jay is a highly skilled Chief of Engineer with a talent for overseeing development teams and ensuring that projects are delivered on time. He has a deep understanding of the latest web and software development technologies and frameworks, allowing him to manage development projects from start to finish. Jay is responsible as code owner to review most pull requests and reviews and ensures that code is well-written, tested, and meets the necessary standards. With his exceptional leadership skills, Jay is able to manage various teams, including frontend, backend, and quality assurance, to ensure that each team is working efficiently and that deliverables are completed on schedule. Jay is also highly analytical and able to monitor and analyze project data to identify areas for improvement, optimize processes, and improve the quality of the development work.
Overall, Jay is a highly effective Chief Engineer who can help companies achieve their development goals while delivering high-quality, efficient, and scalable solutions that meet clients' needs.
Jay's strong foundation in front-end and back-end development and willingness to learn and adapt is why he is so successful and can help developers excel in their roles.
PMS is all about teamwork; we aim to learn and help each other. Our staff mean the world to us. They are our future leaders.
A little more about PMS, Since the 2000s PMS has made remarkable strides, evolving as a team by crafting mobile applications, web platforms, and web-based solutions. Along the way, we've forged invaluable connections, formed enduring friendships, and mastered emerging technologies. Though the journey presented its fair share of challenges, the rewarding destination rendered it a worthy pursuit—an extraordinary adventure! Over time, we've redefined our notion of success; we aspire to be remembered for aiding others in realizing their objectives, rather than merely constructing their software.It's been a long time since we changed our definition of what success means to us. People will remember us for helping them achieve their goals, not just for building their software.
Scrum Master | Agile Coach | Product Owner | QA Manager
Bogdan is a powerful business-oriented IT Professional with a Master's degree focused on Information Technology. Bogdan is a Certified SAFe® 5.0 Agilist and Experienced Certified Scrum Master, an Agile Coach and a PMS Product Owner with a demonstrated history of working on software projects of various sizes. Bogdan can help improve the performance of any client's build through Scrum and Agile methodologies.
Our in-House AWS Certified Solution Architect Manager is a certified AWS Security Specialist, an AWS Certified Sysops Engineer, and an AWS Certified Developer. Steven is our go-to subject matter expert in re-platforming/migrating companies to the cloud (specifically Amazon Web Services), automating and streamlining as many processes as possible while doing so - as well as optimizing cost efficiencies.
Mobile Development Manager
Paul is the Mobile Development Manager for PMS, and He manages all 25+ Software/Cloud Architect and Mobile/Web/Desktop software developers. Paul brings with him 15 years of experience in commercial software development. He participated in more than 160 successful projects from various industries during that time—his ability to grasp and understand clients' business needs and deliver results within budget.
Fill out our contact form today to start the conversation and see how we can help your business grow.
Get Industry Updates,
Including Latest SEO Trends
Follow Us:
We want to hear from you!